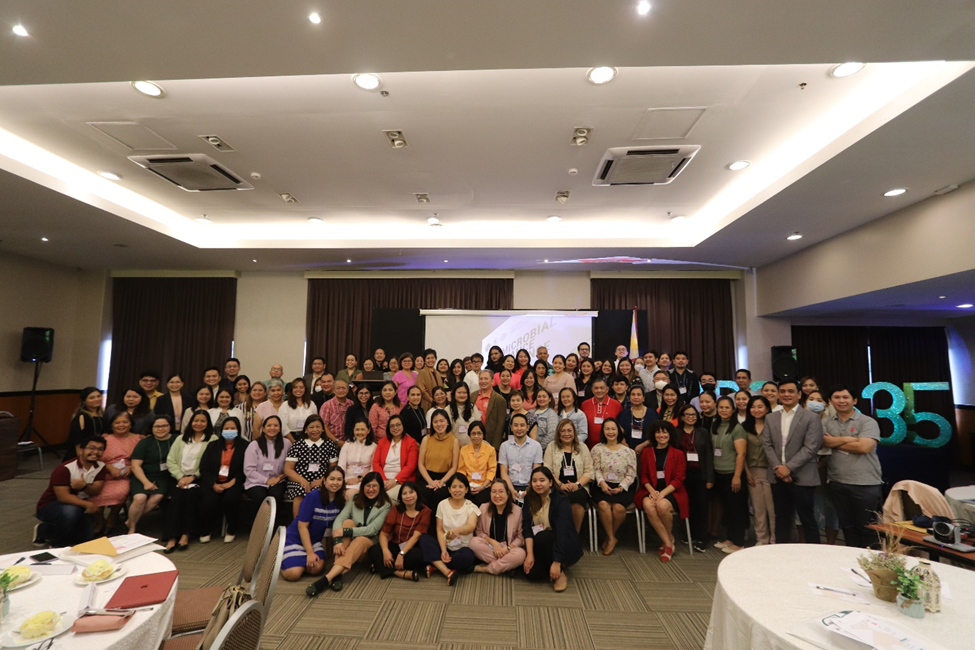 In celebration of the 35th Anniversary of the Department of Health's Antimicrobial Resistance Surveillance Progam, the Research Institute for Tropical Medicine (RITM) through the Antimicrobial Resistance Surveillance Reference Laboratory (ARSRL) held a Scientific Forum entitled "Showcasing joint forces in the fight against AMR and exploring new horizons in AMR surveillance" followed by the 35th Annual Meeting of the Committee on ARSP last May 18, 2023 at Tagaytay City, Cavite.
The Scientific Forum showcased several presentations from key figures in the antimicrobal resistance (AMR) agenda in the country. Gathered in the event were ARSRL's partners in the nationwide AMR surveillance. This includes participants from the Department of Health (DOH), DOH Hospitals, National Antibiotic Guidelines Committee, Philippine Health Insurance Corporation (PhilHealth), World Health Organization (WHO), medical societies and assocations, Department of Agriculture (DA), Antimicrobial Use-Point Prevalence Survey, and other developmental partners.
"The overall objective of this forum to forge a unified vision and commitment among different stakeholders in the battle against antimicrobial resistance. In line with the Philippine Action Plan to combat antimicrobial resistance, the ARSP remains an active key player in ensuring that concerted efforts against antimicrobial resistance are strengthened and sustained," said Officer-in-Charge RITM Director Atty/Dr. Ana Liza P. Hombrado-Duran in her opening remarks delivered in a video recording. The event also served as an avenue to celebrate ARSP's 35 years of integrating the initiatives of the DOH to uphold "rational antibiotic use" through regular surveillance of AMR in the Philippines.
"The progress in terms of antimicrobial resistance surveillance and even the entire AMR program is already recognized as one of the best practices within the ASEAN (Association of Southeast Asian Nations). Sinasabi ng (mga) ibang bansa, ng ASEAN na magaling tayo, and [they are] even expecting us to help train them. That's I think part of our ASEAN commitment," said DOH Assistant Secretary for Public Health Services Team-B Dr. Beverly Lorraine Ho as she commended the AMR initiatives in the Philippines in her keynote address.
(The progress in terms of antimicrobial resistance surveillance and even the entire AMR program is already recognized as one of the best practices within the ASEAN. Countries in the ASEAN say that we are good, and are even expecting us to help train them. That's I think part of our ASEAN commitment.)
Enforcing a One Health approach to combat AMR
During the scientific forum, it was emphasized that a multi-stakeholder collaboration that draws focus on the One Health strategy is a driving force to combat AMR in the Philippines. As discussed by WHO Technical Officer Juan Paolo Tenolete, the Quadripartite (which was established in 2022) is a joint effort of FAO, United Nations Environment Programme (UNEP), WHO, and the World Organization for Animal Health (WOAH) to address AMR threats across humans health, animal health and the environment. The Quadripartite's strategies to combat AMR are further detailed in its five-year One Health Joint Plan of Action (2022-2026).
On a national level, the country has followed the Philippine National Action Plan to Combat AMR through One Health Approach since 2019. Ms. Johanna Mallari-Abella of the DOH Pharmaceutical Division discussed that the 2019-2023 National Action Plan puts premium on the following seven (7) key strategies:
Commit to the Philippine National Action Plan through multi-sectoral engagement accountability;
Strengthen surveillance and laboratory capacity;
Ensure uninterrupted access to safe and quality-assured antimicrobials;
Regulate and promote the rational use of antimicrobials;
Implement appropriate measures to reduce infection across all settings;
Promote innovation and research on AMR; and
Improve awareness and understanding of antimicrobial resistance through effective communication and education
"In response to the AMR problem, the Philippines is also applying the One Health strategy or One Health approach, and [this upholds] that the health of human beings is connected to the health of animals, plants, and shared environment…[Antimicrobial Resistance] not only concerns or affects the human health sector, we need to work together with [the] animal health and environment sectors to approach the problem through a One Health strategy," said Ms. Mallari-Abella.
Dr. Celia C. Carlos, former ARSP chair, showcased the initiatives to combat AMR through surveillance in human health. Dr. Carlos elaborated on the significance of Antimicrobial Surveillance Program data in clinical practice guidelines, DOH antibiotic use policies, and outbreak investigation. Furthermore, the One Health strategy now puts forward an integrated AMR surveillance that will involve continuous monitoring of antimicrobial use (AMU). With this, AMR, AMU, and other relevant AMR-sensitive data shall now be used to inform One Health policy and practices for AMR mitigation.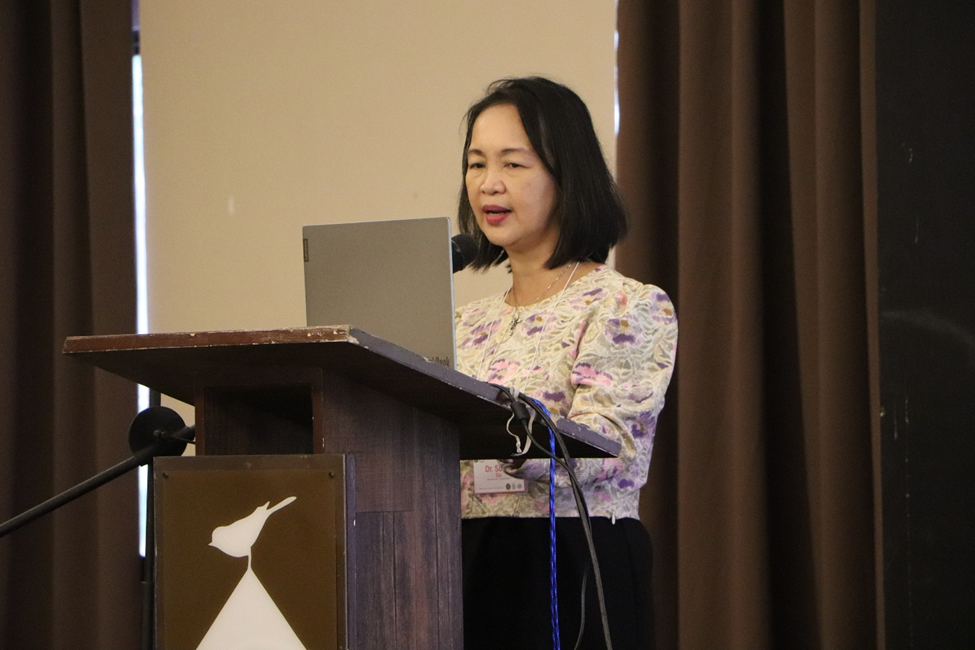 The commitment of the country to AMR surveillance anchored in the One Health approach is evident in its participation to the Global Tricycle Surveillance (GTS). This surveillance focuses on the monitoring of the extended spectrum beta-lactamases-(ESBL) producing Escherichia coli (E. coli) in humans, animals, and in the environment (tricycle). ESBL production in E.coli confers resistance to cephalosporins. As reported by ARSRL Head Dr. Sonia Sia, the Tricycle Project in the country is in direct support of the One Health strategy to combat AMR and its implementation in the country will involve the following:
Human health: RITM, Rizal Medical Center
Animal health: National Meat Inspection Service (NMIS), DA
Environment health: RITM
Combining strategies to address AMR in human health
One of the main strategies the country has employed to combat AMR is antimicrobial stewardship (AMS). National Antibiotic Guidelines Committee Chairperson Dr. Regina Berba reported that the national AMS program has contributed significantly to the decrease in hospital, antimicrobial, and patient care costs; to correct antimicrobial use(AMU) and improve patient outcomes through reduction of mortality and patient discharges and readmissions. The positive impacts of AMS are backed by several AMS impact assessment studies which were also referenced by Dr. Berba.
Another strategy implemented to complement the national AMS program is the conduct of the National Antibiotic Use Point Prevalence Survey (PPS). The Survey aims to collect data on antibiotic presciption patterns and AMR in public and private hospitals. As reported by the study's Principal Investigator and former Clinical Research Division Officer-in-Charge Dr. Mari Rose De los Reyes, the rate of AMU is high among hospitals from 2019 to 2021. The study also reveals that pneumonia remains as the most prevalent diagnosis for therapeutic antimicrobials treatment, in which most antibiotics prescribed for pnuemonia are classified as watch antibiotics (or those antibiotics considered to be highly at risk for bacterial resistance). With these findings, Dr. De los Reyes together with her co-investigators recommend to routinely utilize PPS to help inform interventions and policies at the hospital level and eventually at the national level.
In a more particular scope, AMR also perpetuates as widespread dilemma in the management and treatment of gonorrhoea. Thus, the existence of the Enhanced Gonococcal Antimicrobial Surveillance Program (EGASP). This program aims to monitor the trends of N. gonorrhoeae in terms of antimicrobial susceptibility through the sentinel referral laboratories and clinics in the country. With this in place, the program intends to elevate the status of detection and reporting of N. gonorrhoeae strains that have an elevated minimum inhibitory concentration (MICS) to the globally recommended antibiotic treatment.
Supervising Health Program Officer Noel Palaypayon of the National HIV and STI Surveillance and Strategic Information Unit of the DOH Epidemiology Bureau (EB) explained that the EGASP data are provided by seven (7) sentinel sites and four (4) reference laboratories. Recent data on culture and susceptibility testing revealed that no MIC alert values among gonorrhea-positive samples collected have been detected. Despite unalarming results, Mr. Palaypayon highlighted that continuous monitoring within EGASP is essential as the Program's findings can serve as basis for treatment recommendations and guidelines.
Probing into AMR affecting animal health
As part of the One Health strategy to combat AMR, AMR in the animal sector is also integrated in AMR surveillance landscape. Dr. January Nones of NMIS presented their 2019 study with the University of the Philippines Los Banos which aimed to conduct a pilot surveillance among targeted food animal commodities (pigs, broiler, chicken) to determine the microbiological resistance profiles of Escherichia coli, Salmonella, and Enterococcus pathogens derived from the aformentioned livestock. The study involved major livestock-producing regions in the country (Central Luzon, CALABARZON, Central Visayas, and Davao Region).
Aside from the pilot surveillance study, Dr. Nones also presented the plans and progams of NMIS to address AMR in animals. Dr. Nones emphasized the importance of the continuous implementation of the AMR surveillance program and the Veterinary Drug Residue program; and the significance of engaging in various national and international AMR initiatives such as the First Research Conference the whole genome sequencing (WGS) and environmental testing for foodborne pathogens workshops.
The NMIS works hand-in-hand with other bureaus and agencies of DA in achieving all its AMR efforts. This includes the Bureau of Fisheries and Aquatic Resources (BFAR), Philippine Carabao Center (PCC), National Dairy Authority (NDA), and the Bureau of Animal Industry (BAI) in achieving all its AMR efforts. Dr. Mardi Caniban of BAI enumerated the DA's initiatives on rational antimicrobial use in animal health and underscored the key strategies they concentrate on to address AMR in the animal sector.
Dr. Maniban explained the ARSP-Animal Health (ARSP-AH) sector focuses on three (3) components: (1) bacteria from healthy food animals; (2) bacterial pathogens from disease livestock including those in milk; and (3) aquaculture/fisheries.
Integrating the national AMR surveillance
EB Director Dr. Alethea De Guzman discussed the results of the 2022 Baseline Assessment of Existing Surveillance Systems with Focus on AMR. The assessment aimed to provide a situational analysis of current surveillance systems to assist in building the groundwork for a case-based AMR surveillance system.
The assessment surfaced the gaps of the current AMR surveillance systems. In terms of data and informations systems, data quality was not assured in all reporting sites. As for reponse, monitoring, and evaluation, the notable gap was the limited data on the burden of AMR resulting to being unable to evaluate impact of hospital AMS interventions. Lastly, the assessment revealed that stakeholders were unfamiliar with the AMR National Action Plan; and manpower needs for surveillance were not met.
"Despite all of these challenges, there is a strong support to push for a case-based AMR surveillance so that we can provide the needed epidemiological information," said Dr. De Guzman.
Shifting to a case-based AMR surveillance intends to achieve the following results: characterization of trends, patterns, and burden of resistant infections by patient characteristics; identification of high-risk/at-risk individuals for resistant infection; and evaluation of interventions relevant to AMR, AMU, and public health.
Renewing commitments to the national ARSP
Upon conclusion of the scientific forum, the Annual Meeting Proper followed. Recognition of exemplary sentinel sites were first conducted. The awardees include the following:
Best Sentinel Site: Vicente Sotto Memorial Medical Center
Best Sentinel Site (Runner Up): San Lazaro Hospital
Most Improved Sentinel Site: San Lazaro Hospital
Best Hospital Report: Jose B. Lingad Memorial Regional Hospital
Awarding was followed by a presentation on the program performance evaluation, data management updates for 2022 and setting of surveillance performance targets for 2023. For 2023, all participants decided to retain the 2022 targets. To improve the Program's performance, ARSP shall focus on timely submission of regular data, isolate referral, and completeness of reporting of antibiotic panels.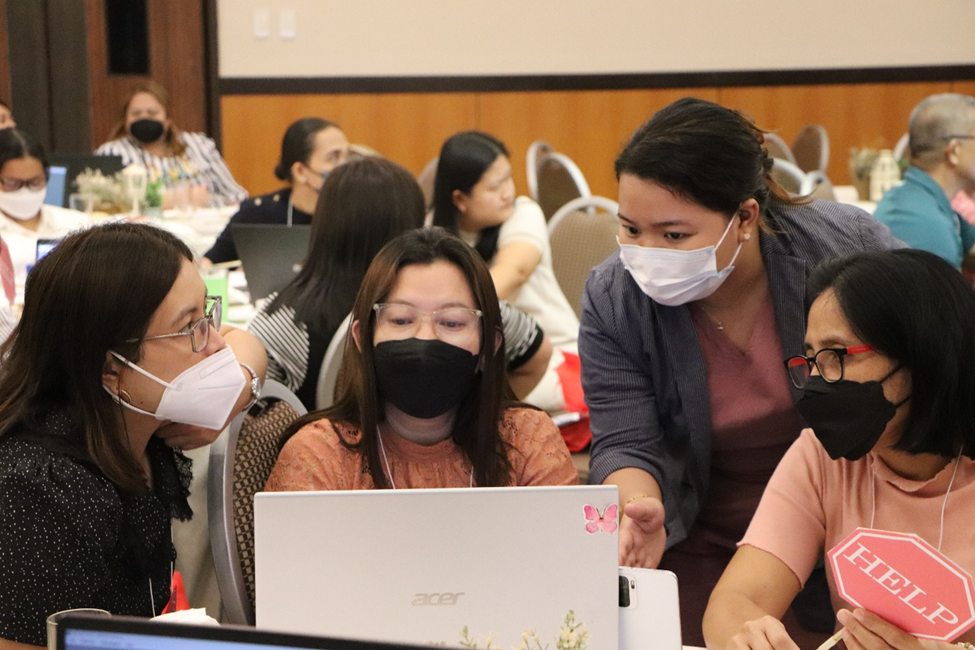 Laboratory updates for 2023 based on Clinical and Laboratory Standards Institute M100 guideline were also presentedThe 2023 list of referrable isolates and recommended antibiotic panels were also discussed. Lastly, the SaTScan training was conducted to orient the sentinel sites about the softwares interface and features, and to guide participants in running the program.
"Let us depart from this gathering with renewed determination and assured commitment to the One Health approach in advancing antimicrobial resistance surveillance, antimicrobial stewardship, and promoting rational antibiotic use. Together, we can make a diference and safeguard the efficacy of antimicrobial agents for generations to come," said National Tuberculosis Reference Laboratory Head Dr. Ramon Basilio on behalf of the Laboratory Research Division.